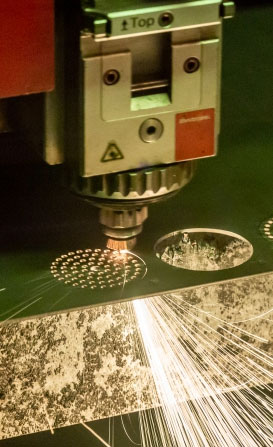 Laser cutting
Laser cutting technology is based on the use of a focused laser beam that concentrates a large amount of energy into a small area to cut through various types of materials.
In the process of cutting, the material melts and evaporates or is blown out by a jet of working gas. The path of the beam is controlled by the machine's CNC system with high precision.
The technology is used in industrial production for cutting various sheet materials: steel, non-ferrous metals and alloys.
When cutting non-ferrous metals, stainless steels and thin sheets of ordinary carbon steels, we use nitrogen as working gas. The cutting edge is clean and free of dross and blackening. This is especially important when manufacturing stainless steel parts for the food, medical, chemical industry, agribusiness and other industries with high demands on quality and durability.
Advantages of the technology:
Ability to cut complex contours without making expensive tooling

Process performance

Accuracy

Processing quality

No mechanical stress on the material - extremely thin and easily deformable materials can be processed

Wide range of machinable materials

High degree of process automation

Versatility of equipment - quick changeover to a new batch of parts